Health Information Science PhD
Health Information Science
Doctor of Philosophy (PhD)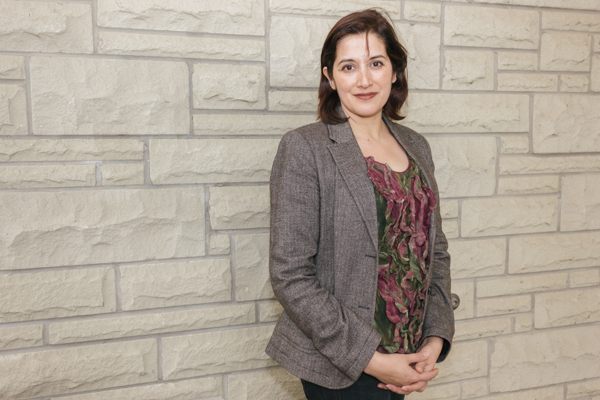 "Health Information Science is a specialized program, and there is no other like it in Canada."
Supervisors: Dr. Nadine Wathen and Dr. Helene Berman
What is it about your grad program that enables you to thrive and be successful?
It is truly interdisciplinary, which makes it challenging, but also realistic to the real world. I love that it brings me in contact with diverse perspectives.
What idea, suggestion, or comment would you like to share with the Western graduate community?
I'd say let's be more open about the challenges of doing one project, by yourself, over a long period of time. It takes strength to stay focused and motivated. We all have that in common, whatever our specific areas of focus are.
Describe your research.
My work examines the ways that the mental health system engages youth as stakeholders and decision-makers in their own care. I look at the points of intersection between youth and the care providers and service organizations that serve them --- looking to understand how youths' knowledge is taken up by the system.
What's your favourite music?
I like the artist-related radio stations on Spotify. The Sigur Ros one is great for writing to.
Have you worked as a TA or RA?
I've worked as both and the networks and the professional relationships I've built have benefited me the most. When you work alongside other academics, at whatever level, you can learn so much from the way they do things. These are soft skills that will be tremendously helpful outside the university.
Program Websites
Program Contact
Shelley Long
(
slong@uwo.ca
)
Graduate Programs Assistant
Faculty of Information and Media Studies Western University FIMS & Nursing Building, Room 2020 London, Ontario N6A 5B9
t.
519-661-4017
The Doctoral Program in Health Information Science (PhD HIS) program is a research-intensive, joint graduate program with the Faculty of Health Sciences, designed for students who want to do independent original research in Health Information Science. The program consists of two required courses, the option to conduct Guided Reading courses or elective courses in the area of study, the passing of a comprehensive exam and completion and defence of a thesis.


The Own Your Future doctoral professional development program creates career-ready graduates with the Power Skills necessary to excel in their studies and achieve their future goals. Assess your own strengths and opportunities for growth and focus on what you want to get out of your time here at Western. To learn more, visit www.uwo.ca/ownyourfuture.
Program Length
Program Design
Full-time study
Thesis-based
Funding Information
Applicants are encouraged to apply for the following scholarships (if eligible):
Admission Requirements
Master's degree from a program in Health Information Science, Health Sciences, Library and Information Science, Media Studies, Health Psychology, Sociology, Computer Science, or a related field appropriate to the interdisciplinary strength of the program.
78% overall average in the last two years of study.
English Language Proficiency
Applicants whose first language is not English must furnish evidence of their proficiency in the use of the English language:
Application Deadline
February 1 - Acceptance notification between late March and late April