Health Information Science MHIS
Health Information Science
Master of Health Information Science (MHIS)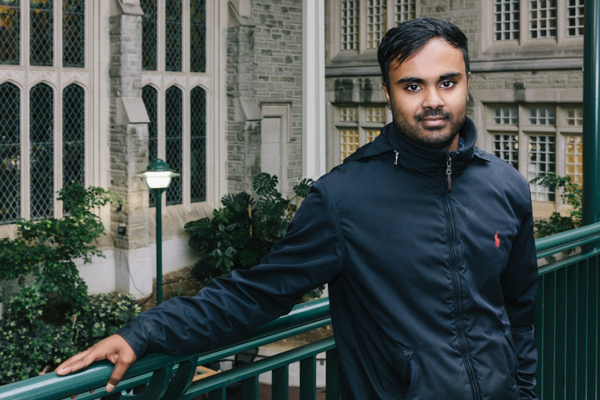 "The greatest benefit of this graduate program is that it allows you to tackle whatever field you want in the administrative healthcare industry."
Supervisor: Sandra Regan
Describe your research.
My research involves the application of statistical and big data analytics on electronic health record systems such as EPIC, Cerner, and MEDITECH. I hope my research allows for more innovation within hospital settings because a large amount of data can be analyzed to make more evidence based decisions.
Where's your favourite place on campus?
My favourite place to study on campus is at Taylor Library. They have great staff to help with health information research.
What idea, suggestion, or comment would you like to share with the Western graduate community?
I believe in order to end up in a career that interests you, focus on gaining relevant experiences as a student, as it is much easier to access those resources.
What's your favourite book?
Night by Ellie Wiesel
Have you worked as a TA or RA?
I have worked as an RA on a number of occasions. These opportunities allowed me to access clinical settings within hospitals. I am currently doing statistical analyses on over 23, 000 public health workforce surveys in Ontario. Being an RA has helped me by providing relevant work experience.
Program Websites
Program Contact
Shelley Long
(
slong@uwo.ca
)
Graduate Programs Assistant
Faculty of Information and Media Studies Western University FIMS & Nursing Building, Room 2020 London, Ontario N6A 5B9
t.
519-661-4017
The Master of Health Information Science (MHIS) program is a joint graduate program with the Faculty of Health Sciences that will provide students with a fundamental knowledge in health and health care, including public health, health policy, and clinical health care, combined with expertise in knowledge organization and management, knowledge translation, patient information seeking behaviour and information ethics and policy.
Program Length
Program Design
Full-time study
Project-based or thesis-based
Funding Information
Applicants are encouraged to apply for the following scholarships (if eligible):
Admission Requirements
Honours B.HSc., B.Sc., BA or equivalent from an accredited university.
78% overall average in the last two-full time years of the undergraduate degree.
Since this is an interdisciplinary program, students may be accepted with degrees in a variety of disciplines, including health sciences, social sciences, library and information science, journalism, and computer science so long as the student demonstrates that he or she has a solid academic preparation in some aspect of health (broadly defined).
English Language Proficiency
Applicants whose first language is not English must furnish evidence of their proficiency in the use of the English language:
Application Deadline
February 1 - Acceptance notification between late March and late April