Medical Biophysics
Doctor of Philosophy (PhD)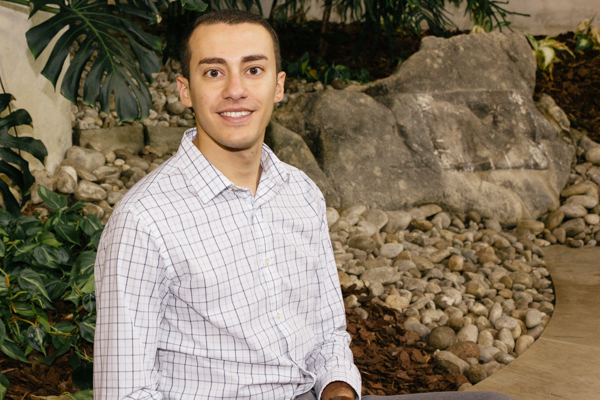 "Everyone in Medical Biophysics program, from students, to scientists, and administrative staff, are always willing to help and ensure the student's success. It's a very enriching and nurturing environment that allows me to learn and grow."
Supervisors: Keith St. Lawrence and Adrian Owen
Why did you come to Western for your graduate degree?
Western has some of the best imaging facilities in the country, which provides students with an opportunity to work with cutting edge technology. There are many opportunities to collaborate with researchers from various departments, with different backgrounds, which allows for more diverse research discussions.
Where is "home" for you?
I was born in Egypt, and raised in the United Arab Emirates. I moved to Canada in 2009 for school. I now consider Canada my home.
Describe your research.
My research focuses on developing portable, inexpensive optical systems to assess brain function at the bedside. I am currently working on developing a brain computer interface (BCI) to provide a way for patients who lack the verbal and physical ability to respond to questions to communicate with the outside world.
Where's your favourite place on campus?
The Grad Club! It's a great place to meet graduate students and share ideas, which provides me with a different prospective on challenges I may be facing in my research.
What's the best advice you could give to someone considering applying to your graduate program?
Try to find out research topics that interest you, and choose a project that will augment your future goals. Contact professors, and members of their lab, to learn more about a project that sparks your interest.
Program Websites
Program Contact
Elizabeth Oliveira
(
askmbp@schulich.uwo.ca
)
Graduate Recruitment Coordinator
Department of Medical Biophysics
Western University
Medical Sciences Rm 407
London, Ontario N6A 5C1
t.
519-661-2111 ext. 88030
f.
519-661-2123
The Department of Medical Biophysics works very closely with other university departments, research institutes, and hospitals in the City of London to offer unique graduate training opportunities in diverse fields including: cardiovascular disease, microcirculation, hemodynamics, biomechanics, and cancer. Biomedical imaging (CT, MRI, MRS, ultrasound, SPECT, PET-CT, PET-MRI, optical, photoacoustic) is a vigorous research area at the cellular, small-animal, pre-clinical, and clinical scale in our department. Our research program therefore gives students a chance to work with state-of-the-art equipment, often combining computational and experimental techniques.
The work of all our students, considered collectively, represents substantial accomplishments in a wide spectrum of physical, biological, and clinical science. Following graduation, you will find a rewarding career in the health care sector, biomedical industry, and academia; others pursue further training in professional schools such as medicine, dentistry, or business.


The Own Your Future doctoral professional development program creates career-ready graduates with the Power Skills necessary to excel in their studies and achieve their future goals. Assess your own strengths and opportunities for growth and focus on what you want to get out of your time here at Western. To learn more, visit www.uwo.ca/ownyourfuture.
Program Length
Program Design
Full-time study
Thesis-based
Funding Information
Applicants are encouraged to apply for the following scholarships (if eligible):
Admission Requirements
Master's degree including undergraduate physics education that includes at least three upper level (3rd or 4th year) half-courses in traditional physics.
Students with an admission average of >85%) who do not have a master's degree will be considered for direct-entry placement into the program if space permits.
English Language Proficiency
Applicants whose first language is not English must furnish evidence of their proficiency in the use of the English language:
According to SGPS, the minimum acceptable score for TOEFL is 86 with no individual score below 20 for the internet based version; 213 for the standard electronic version; or 550 for the paper and pencil version. Only complete applications with an overall iBT score of 92 will be considered with no individual score below 20 for the internet based version.
Application Deadline
June 1 – Fall Term
November 1 – Winter Term
March 1 - Summer Term