Political Science
Master of Arts (MA)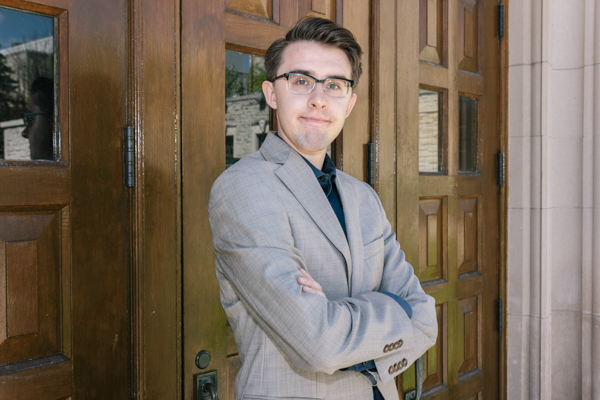 "I was very impressed with the special knowledge, publications and practical experiences of the professors in the Political Science program at Western."
Supervisor: Charles Jones
What is it about your grad program that enables you to thrive and be successful?
I feel emboldened in the program to take advantage of the academic freedom offered in our research. Course work allows me to focus on my particular interests at an advanced level, while the major research paper is an excellent step toward a greater understanding of what drives me academically and politically.
Describe your research.
My major research project is a defense of a basic income guarantee rooted in specific normative theories of justice that, when fulfilled, will ensure the policy has direct, positive implications on the well-being of its recipients. Focusing on a basic income that fulfills the requirements of distributive justice, I also argue that the basic income must fulfill necessary conditions for freedom and equality through increased economic opportunity and efficiency.
Where's your favourite place on campus?
While the quiet reflection offered by the graduate student office is a necessity at times, I also enjoy getting down to the Grad Club to write and research when I can. The atmosphere keeps me upbeat whether I am inside or on the patio in a beautiful part of the campus.
What's the best advice you could give to someone considering applying to your graduate program?
I would certainly encourage prospective students to get to know the courses, professors, and potential thesis supervisors they are interested in before and during the application process. I had excellent experiences approaching professors during my own application process, and knowing who I would likely be working with and how to get the most out of each course helped me apply with confidence and enthusiasm.
Program Websites
Program Contact
Teresa McLauchlan
(
tmclauch@uwo.ca
)
Graduate Program Advisor
Department of Political Science
Western University
Social Science Centre Rm 4150
London, Ontario N6A 5C2
t.
519-661-2111 ext. 83657
Western's Political Science Department is known for the outstanding quality of its research and teaching in Democratic Engagement, Global Justice, Urban Politics and Local Governance, and Research Methods. Our faculty offer expertise and training in all of the traditional subfields, such as Canadian Politics, Comparative Politics, International Relations, Local Government, and Political Theory but also value and encourage work that cuts across and challenges those boundaries. Not only do our faculty and students draw upon multiple theories and methods to solve a wide range of pressing domestic and international problems, we also invent new ones to expand the discipline's analytical and explanatory power. If you share these values and want to acquire the skills necessary to put them into practice, we invite you to apply to our MA program.
Program Length
Program Design
Full-time study
Project-based or thesis-based
Funding Information
Applicants are encouraged to apply for the following scholarships (if eligible):
Admission Requirements
4-year Honours degree in Political Science.
Achieved at least a 78% in all courses taken within the final two years of the undergraduate degree.
English Language Proficiency
Applicants whose first language is not English must furnish evidence of their proficiency in the use of the English language:
Application Deadline
February 1 - Acceptance notification in April, concluding in July