Occupational Therapy MSc (OT)
Occupational Therapy
Master of Science (MSc (OT))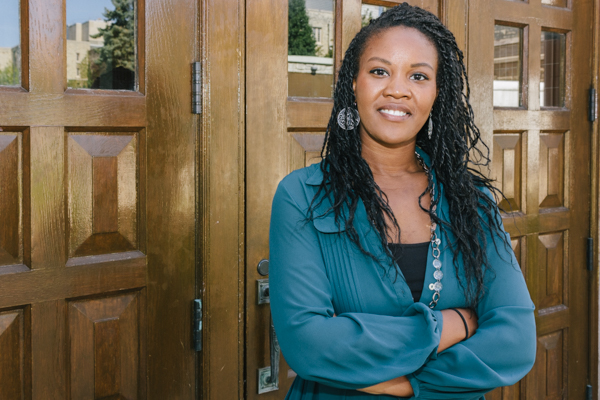 "The program employs wonderful professors who are always available with knowledge of what it takes to be an occupational therapist. I truly value the professors who are not only researchers, but also practice as clinicians."
Why did you come to Western for your graduate degree?
I completed a summer course at Western in 2011. This week long opportunity allowed me to see the great facilities available to students, and I was able to catch a glimpse of the incredible school spirit. I fell in love with the school and decided to apply for the Occupational Therapy program.
What are you most passionate about?
I am passionate about community outreach projects, particularly as it pertains to child and adolescent mental health. My parents have fostered children for the last ten years and it has had a great impact on my career goals.
Describe your research.
Though my program was course-based, we had the opportunity to complete a supervised research project. My project looked at the impact of psychiatric diagnosis on social identity.
What one thing would you like people to know about you?
I am a great believer in having a good work-life balance. I have never let school, or my job, be the only thing that consumes my day. With this in mind, I enjoy trying new things such as hiking, traveling and painting.
What is it about your grad program that enables you to thrive and be successful?
Our program fosters great relationships with our fellow classmates. Having fifty-seven other students available as resources, with a variety of experience and talents, truly made my last two years a great learning experience.
Program Websites
Program Contact
Joanna Kozlowska
(
askot@uwo.ca
)
Admissions Coordinator
School of Occupational Therapy
Western University
Elborn College Rm 1011
London, Ontario N6G 1H1
t.
519-661-2111 ext. 84351
The Master of Science in Occupational Therapy (MScOT) in the Faculty of Health Sciences at Western University is an entry level professional master's program of academic courses and fieldwork placements. The School of Occupational Therapy was the first Canadian program to offer a Master's level entry-to-practice degree and continues to provide innovative leadership to the profession. Occupational therapy is a dynamic and growing field, with many new and amazing job opportunities. Occupational therapists are leaders in promoting health and well-being in clients through participation in meaningful daily activities and occupations.
Program Length
Program Design
Full-time study
Course-based
Funding Information
Admission Requirements
Four-year degree or equivalent.
Students with a GPA 3.6 (as calculated by ORPAS), or better, would normally be considered competitive applicants for the program.
Additional Requirements
It is suggested (though not required) that applicants have some undergraduate science courses (i.e., anatomy, biology, human physiology).
English Language Proficiency
Applicants whose first language is not English must provide evidence of their proficiency in the use of the English language by a satisfactory achievement within the last two years in one of the following:
Application Deadline
Early January - Acceptance notification in mid-May